Sometimes our extension modules for standard EMC test software are not suitable:

Your diagnosis tools doesn´t provide an external interface
There simply doesn´t exist any diagnosis tool
The EUT (eg your diagnosis tool) needs to control the data exchange1)
There are special requirements to report the results
...
That don´t needs to be a problem!



1) Normally the data exchange is controlled by the EMC software, i.e. the EMC software triggers an instrument (or the EUT).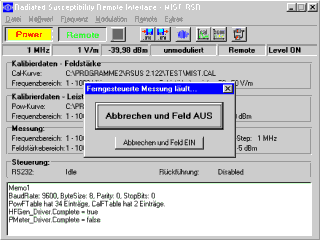 The expense depends on the software complexity, i.e. on the programm architecture and on the functionality.

Customized EMC test software: starting at 1500,-

.
A tailor-made EMC test software can also do these jobs.

The functionality of that software is on you, eg:
Controlling of the EMC test
Reporting the ECU data
Automated measuring of EMC characteristics (i.e. influences)
EUT diagnosis
Slave-Modul to enhance an existing test system
...